I have always loved this quote from the inspirational and charismatic Katharine Hepburn.
"Never complain. Never explain." Katharine Hepburn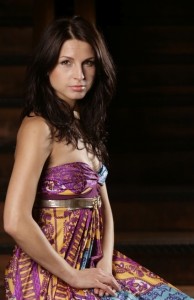 It really embodies the attitude I like to maintain each day. It's simple but if I follow these two rules, I actually maintain my integrity in life as a person and a Life coach. Always looking at the bright side (or as much as possible) has become one of the most valuable habits I have developed over time.
The Never explain part of this quote has to do with fully trusting your self and your personal universe, the people around you and your circumstances to be right if not perfect. With this attitude, things always tend to work out. My life now is the proof that this simple change in attitude can create the life you will love.
People that mean a lot to me

I love my family. They are and always will be the most important people in my life. Just recently I just became and auntie and its so amazing! My sister's little boy is my pride and joy.
"A friend is someone who understands your past, believes in your future, and accepts you just the way you are."

Having great friends has always been something I have been blessed with in my life.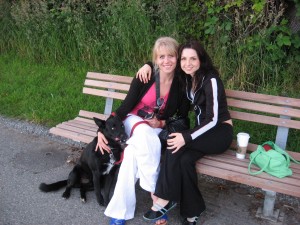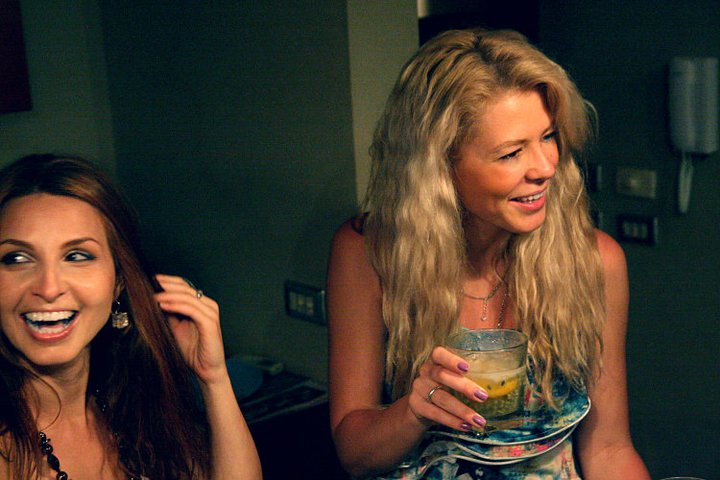 Love is all you need
About 4 years ago I' ve met a boy. His name is Michael and since that moment, life is even more fun. I know I am lucky but I also believe it takes work and willingness to create a relationship that supports us and adds to our lives. I am proud of this one. Here we are in sunny Costa Rica, where we have just spent 3 months surfing and building our own on line businesses.
"I love you, not only for what you are, But for what I am when I am with you."
We travel together, work together (as we both have on-line businesses) and try to have as much fun as possible every day.
Things I am the most proud of in my life
At the age of 18 I moved from my home country Slovakia to London, England. The next almost a decade I spent working as a nanny (aka live- in caregiver). My former education as a teacher made me the perfect candidate for this job. It provided my with great opportunities to travel, learn English and most of all to learn about my self. And that on it's own was well worth it. After 2 years I spent in London, I decided to move to Vancouver and explore living in Canada. I fell in love with the energy and beauty of Vancouver and eventually made it my Canadian home. In the summer of 2007 I became permanent resident of Canada.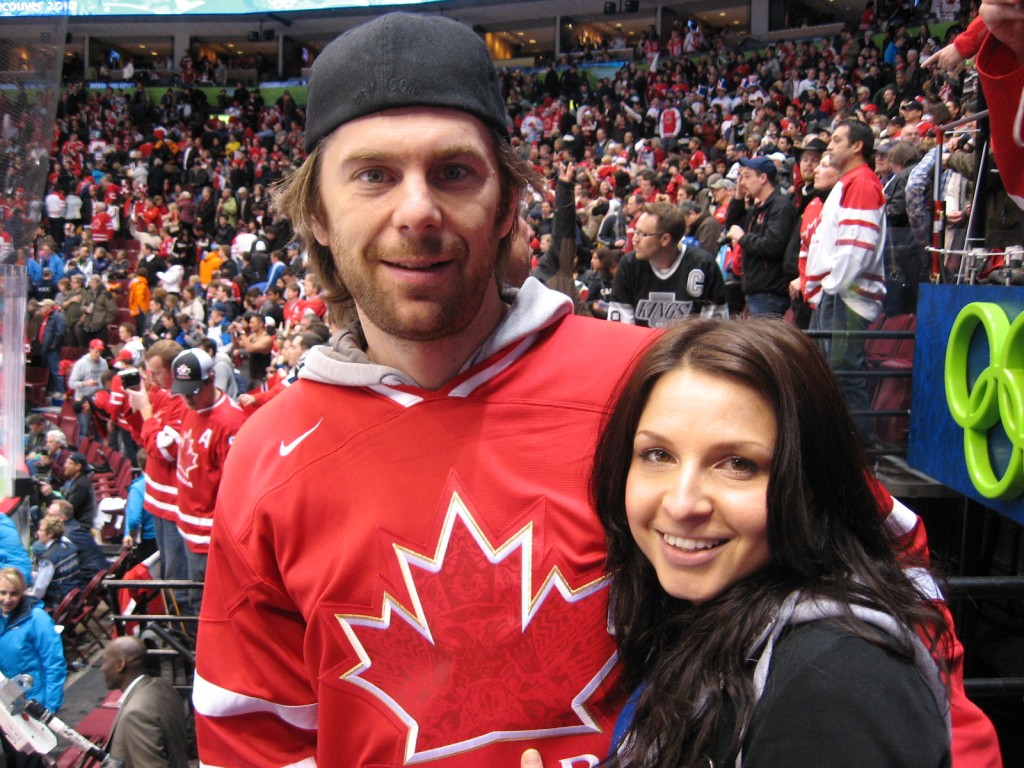 You cannot teach a man anything. You can only help him discover it within himself.
Galileo Galilei
Launching my own Coaching business
In the winter of 2008 I launched my own Style/Life Coaching company in Vancouver under the name Sunera – sunerastyle.com. I was 28 and really tapping into my passions which were design and fashion as well as personal development and positive psychology. I have built an extensive portfolio as a Designer and a Style coach for people out there wanting to feel great about them selves again.
It is almost 4 years later and I have fully transferred into focusing on my career as a Life Coach and launched this Life Coaching Blog. A decade of studding anything I could get my hands on in the field of Personal Development and the Law of Attraction turned into a lifestyle and a way of being for me. I share that knowledge and my passion for positive psychology on-line with my clients and my blog visitors. I am now 32 and have a career solely built on my passions that I really enjoy. I now have clients in different parts of Canada, even USA and Europe. That is a big achievement for me. I love my job and I wish every one out there could have that. It feels incredible!
Quit apologizing for your greatness. If people can't handle your light… Hand them a pair of shades." Lisa Nichols
One of my passions – Traveling
Beautiful view of Budapest and my home country Slovakia from my travels around Europe 2 years ago.
Europe – My Home Land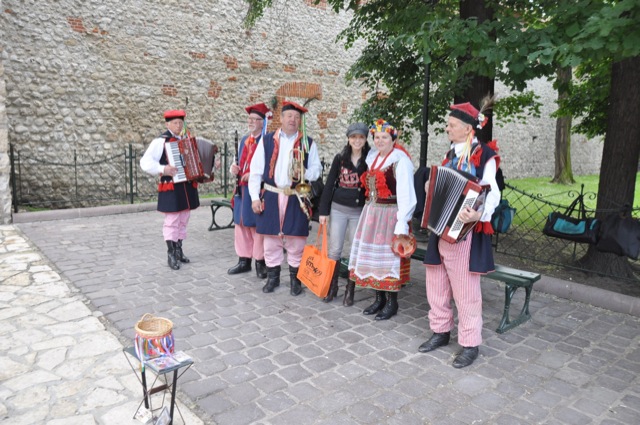 Krakow, Poland. This city is magical with a castle in the middle of it and lots of great restaurants. If you are there, you have to have some perogies – the local specialty.
Prague, Czech republic – one of my favorite cities in Europe. If you are planing to travel around Europe, don't miss this amazing city. The next picture was taken in the elegant Vienna.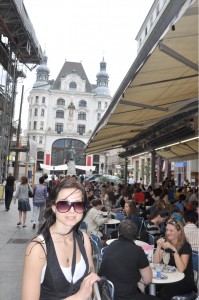 Winter Olympic Games in Vancouver and we were there. This was an experience of a life time.
"Stop worrying about the potholes in the road and celebrate the journey." – Fitzhugh Mullan
Windy day in San Francisco. I fell in love with this city. It was as cool and interesting as I was hoping for.
I am a health-nut. It's the choice that became my lifestyle.
Being healthy is a choice I make every day and all the other little choices are just reflecting on this philosophy about life I have. I try to keep my mind and body active. Being bored is one of the worst thing that could happened to anybody I believe. So I have as much fun as I can whatever I do.

About 3 years ago I tried surfing for the first time while vacationing in Costa Rica. It's a great work out and pure JOY!
I am 32 now and have never felt better in my own skin. Staying fit on all levels of my being is what energizes me and keeps me very happy. Having simple healthy habits makes it easy to maintain feeling good every day.

"A man too busy to take care of his health is like a mechanic too busy to take care of his tools". Spanish proverb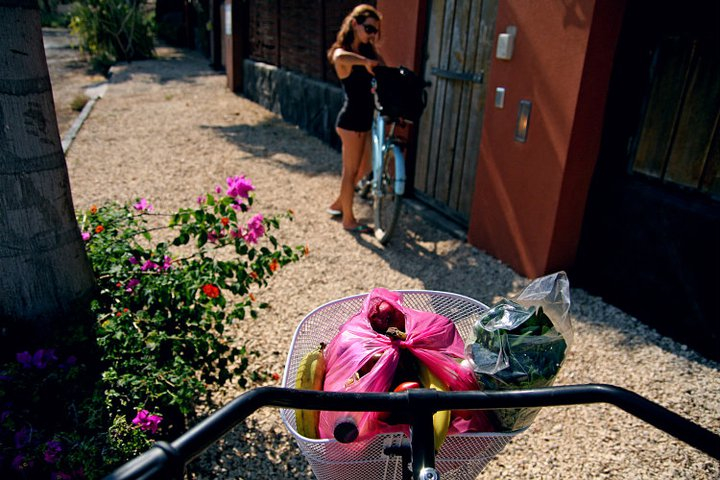 Shopping for some tasty fruits and veggies in Costa Rica. Lunch time!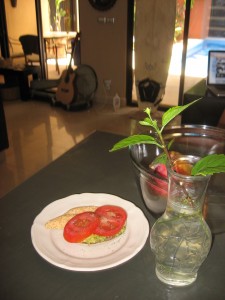 My favorite breakfast – avocado and tomato toast. Mmmmm… sooo tasty. All I need after that to start the day is my little morning ritual – cup of coffee on my sunny patio.
Painting and being artistic is a meditation time for me.
I have been attending art classes since the age of 5. Being artistic and painting is one of my passions that comes very naturally to me. I am a very active person – physically and mentally, so painting became my way to escape and rejuvenate.
This is one of my latest paintings called Make a wish. It really reflects on the mentality I strive to maintain every day – never to stop dreaming and go with the natural flow of life. As a little girl, every spring I would blow on dandelions making wishes and releasing them out to the wonderful universe. Many of my dreams came true so I guess it works (smile).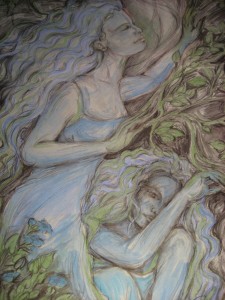 I used Slovak title for this drawing (on the left). It's Lesne zienky which means Forest Fairies. It was so much fun to play around with these shapes and colors.
Sunset is the nane of the painting on the right.  I love the mood of this one. It reminds me of warm summer nights and the beach. Ahhhhh…
"Above all, be true to yourself, and if you cannot put your heart in it, take yourself out of it." Carl W. Buechner
An Angel for Everyone
I believe we all have one to help us when we are in need. Even if it wasn't true, it's a nice though to have, so whats the harm? Do you believe in Angels?
My last painting is dedicated to the idea of Angels and what they represent. I painted this one for my sister that just had a cute baby boy. I am often not around (living in a different country), so on my last visit, I left this Angel behind with her to guard her and her little family. I believe it will.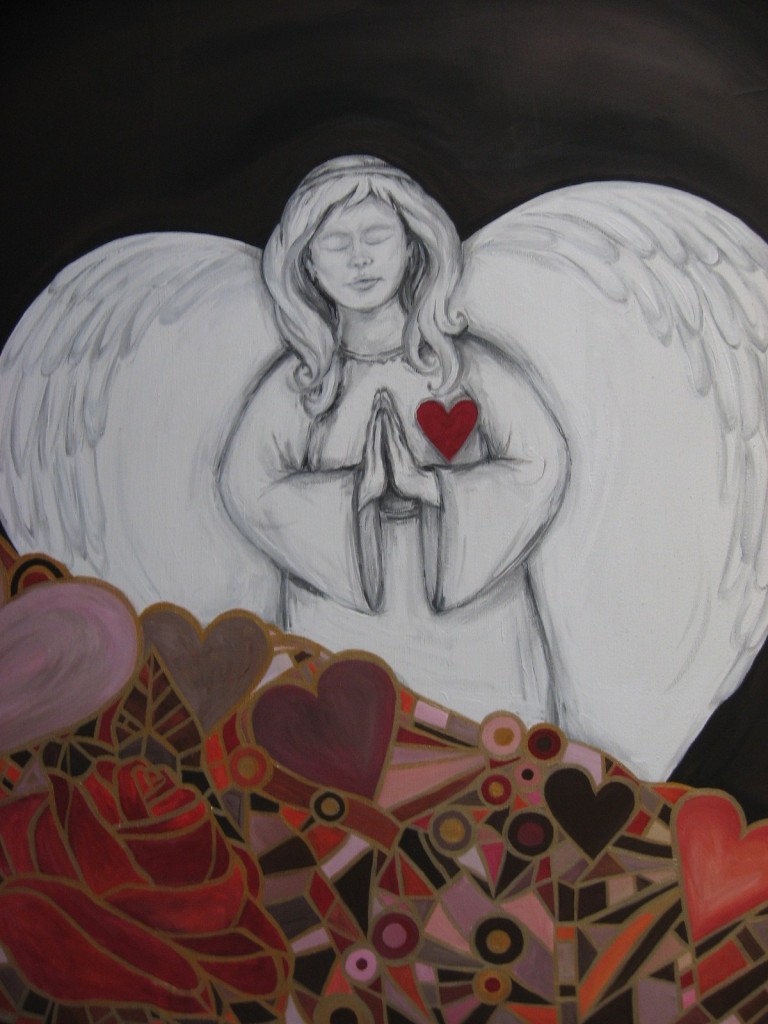 Let your spirit be bigger than anything that comes your way today.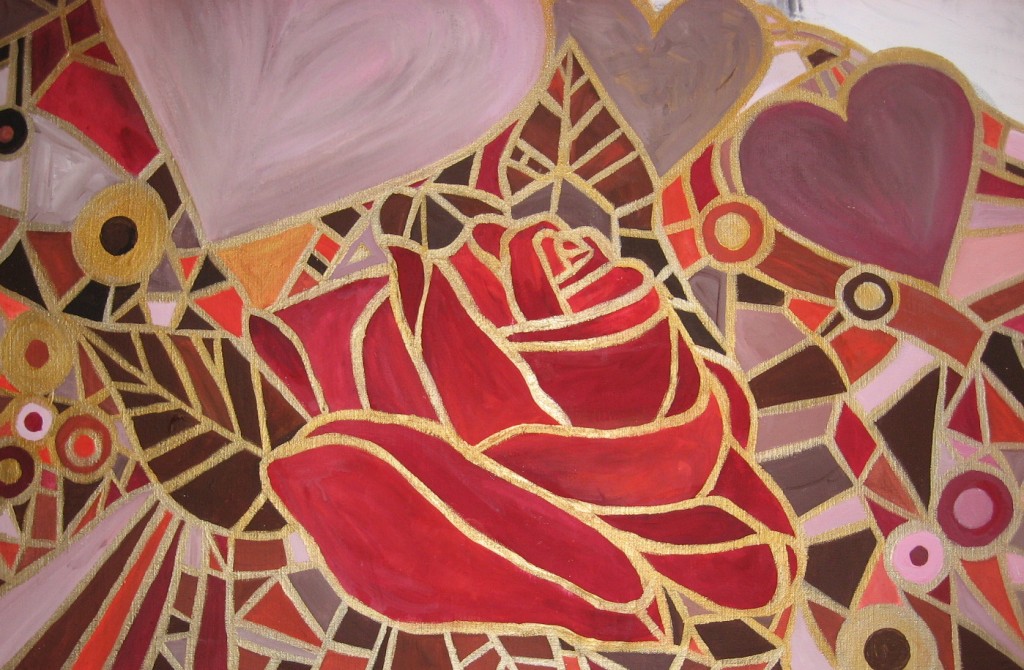 If we really love ourselves, everything in our life works. -Louise L. Hay
So, this is my life and I love it. Please leave a comment below if you enjoyed this photo-gallery and I hope you will find my blog helpful and inspirational. Have a fantastic day!
Happy thoughts,
Erika