First, let's to talk about The Modern Goddess.
Who is she? 
The Goddess I am referring to is not some mythical figure. 
She is YOU. 
The Modern Goddess I am talking about is YOU in your full power and grace as a woman.
She is the part of you that is clear on what you want from life, she trusts life and her ability  to attract all she desires. She know she deserves the best. She is calm and confident, full of life and radiating an energy that is irresistible to those around her.
Wouldn't you like to tap into that part of you? To feel that energy and confidence? You CAN.
Here are 5 simple ways to start stepping into this wonderful energy to create your life – Modern Goddess Style
Before we go any farther I want to to acknowledge the fact that there truly is a Goddess inside of you that can't wait to be acknowledged and allowed to fully express it self. You are in for a treat. She is the best friend you'll ever have. The most fun to hang out with and make daring plans to live an outstanding life.
She is real and and if you are about to meet fer the first time, you will never go back to being an ordinary girl. Because you are not. You are a Modern Goddess and it's time that start living a life that reflects on that.
Here are 5 simple ideas to get started on your journey to living your life- Modern Goddess Style. 
1. Define Your Inner Goddess
Today take 15 minutes to sit down in a peaceful place, breathe, relax, close your eyes and imagine your Goddess Self standing right in front of you. Take out a piece od paper, a pen and ask your self:
If  My Goddess Self was standing right in front of me, what would she look like? What would she walk like? 
Look closer. What is she wearing? What is your first impression of her? What is her personality like? What do you like about her the most? What is surprising, different, even unexpected about her?
Write down all the detail, anything that comes to mind. Let your mind wonder, tune into Your Goddess energy and soak it up. Let her tell you about the life she lives. Ask her questions that may help to find a new, fresh direction in life.
Ask her for advise. She is wise and ready to share her secrets with you. Enjoy this experience. Get use to it.
If you are ready, she is about become a permanent part of your life. She will be your best friend, a guide/adviser in times you face challenges.
You can always trust her to be there for you.
2. Slip Into Her Skin
Walk like her, talk like her. Put on your best dress and let your Goddess side shine.
I find that the easier way to remind my self to live my life – Goddess Style is to put on my most feminine, elegant clothes, do my hair, put on some nice lipstick and roll with it.  I love it!
I learned from the time I have worked as a Style Coach (aka Image consultant), that the way women dress can completely shift their energy, mood and outlook on life.
Bottom line, when you imagined Your Goddess Self in front of you, she wasn't wearing pans and a ill-fitted shirt. Was she?
3. Affirm the Goddess in You
The Goddess version of you has a specific way of thinking. She never criticizes her self. That is a Goddess NO-NO. She is kind to her self and speaks like a lady. She also expects the people around her to speak to her with respect and love. She carefully chooses every word she says knowing that it's her manifesting power.
Here are few simple affirmations to practice your Modern Goddess Mentality: 
I am now ready to step into my Goddess power to create the life I love.
When I reconnect with my Goddess Self, all becomes clear and I know what to do.
I trust my self to make the right decisions and I am excited to make new changes to move forward with my goals.
I enjoy letting my self shine in any way I can. I know that it is my purpose to love my self in each moment and I look forward to practicing this attitude every day.
My life is filled with love, fun and new wonderful experiences I attract into my life every day.
All I need to do is to stop all criticism, forgive, relax and let My Goddess Self to lead the way.
4. Get Out of Your Comfort Zone and Make a Goddess Move
Pick one quality on the list you made to describe your Goddess Self that was unexpected, surprising and start practicing this attitude. Maybe the Goddess part of you is more adventures, more sassy, or out spoken.
Make sure to choose something little challenging to start exploring your unrealized abilities and potential that will take yo out of your comfort zone. I recommend to practice this attitude for the next 7 day. I may take time till it becomes somewhat natural. Most of all, have fun with this experience, embrace the change, it will only create new opportunities to live your best life.
5. Raise Your Standarts
I am sure that as soon as you tuned into Your Goddess Self and her energy you knew what you need to let go of – whether it's people that don't treat you right -friends, a bad boyfriend, bad habits, mediocre goals that only reflect on the fears you may have about your abilities to reach your goals.
Make a list of the things that you are ready to let go of in order to make room for all the new, amazing experiences you are now open to.
In next few weeks start consciously letting go of the things on your list. Take it easy, it will be a process. Be patient with your self and just commit to raising your standarts when it comes to what and who you let into your life.
Your Goddess Self really chooses her company in life. Follow her example and you will be amazed at the positive change this can create immediately.
What would you do with your life if you had THE TOOLS, CLARITY AND CONFIDENCE to tap onto your potential to live your life – Goddess Style?
If you are ready to really explore the relationship with your Inner Goddess, I would like to invite you to check out my Moden Goddess Coaching Page.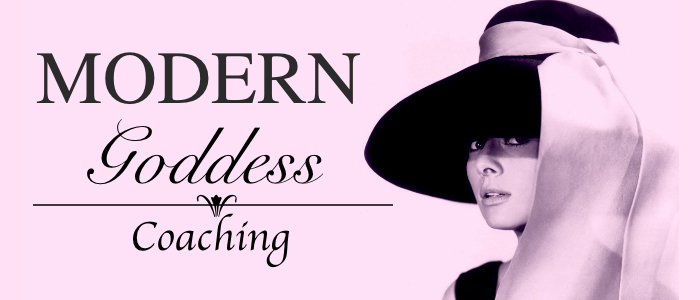 Goddess Coaching program will allow you to start living your life to your full potential while being the woman you were always mean to be – Happy, Loved and Irresistible.
I will help you to remove the mental and emotional blocks that hold you back so your could start moving forward with your personal and professional goals to become more productive, balanced and excited about life again.
It's time for You to fall head over heels in love with Yourself and Your life!