"If one speaks or acts with a pure mind, happiness follows like a shadow." ~ Buddha
Image source : weheartit.com
February 11th – World's Happy Day! 
Today, honour this special day and do something that truly makes you happy. Maybe it's something you have been wanting to do for a while or maybe it's doing nothing at all and relaxing full on. That's what I am doing – having a lazy and super relaxing Saturday. I have been pretty busy the whole January planning my workshops in Vancouver  and yesterday I started to feel little sick, so I am taking a day off and allowing my self to rejuvenate. I am making my self some yummy soup – my favorite food and getting read to watch Kung Fu Panda 2. I loooove cartoons! What else makes you happier than being 5 again? (SMILE).
Join the Happy movement at Worldhappyday.com
On World Happy Day – February 11, 2012 – thousands of people will join together in communities across the globe to experience the film HAPPY and begin their journeys toward healthier and happier lives.
You can join this worldwide event here : worldhappyday.com
Happy – the movie.

What will you do today to tap into your Happiness? 
Do this intentionally and make a decision to stay in that happy state all day if you can. Ones you do that, you ll have something to share and pass on. That's what this Happiness movement is all about.
Being happy makes you magnetic to other forms of happiness and other happy people you will now be able to attract into your life. 
Easy way to tap into Your Happiness – Gratitude. 
Studies has shown that when we express our gratitude, we naturally tune into the happy mode. One off the easies way to find out how well that works is to do this simple exercise:
Write a letter to someone you know and you want to express appreciation to. Who would you like to say Thank you to? You dont even have to send the letter out as we are always connected energetically, but if you do, the effect will be that much more powerful. I found a beautiful article on digg.com with some examples to inspire you to share your love:  11 Amazing Thank You Notes From Famous People. Here is the letter #1:
1. Thank You for the Dream You Sent Me
Once upon a time (1989), a little girl named Amy sent a bottle of colored water, oil and glitter to Roald Dahl, who knew right away that this was a dream in a bottle inspired by his book, The BFG. In response, the author penned this short note to his 7-year-old fan: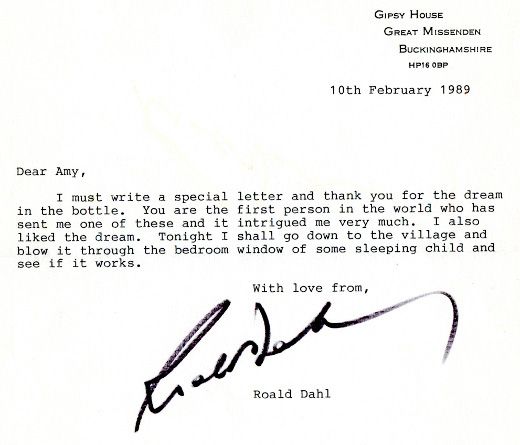 Source of image : digg.com
Happy manifesting!
If you like this post, leave a comment and please share it through the social media links below. Thank you!