So this is the first full week after all the partying and fun of the New Year's celebration and it's all about:
How do I make my 2014 the year to feel good, in my power, productive and outrageously happy?
I love January! It's like hitting the refresh button and starting from scratch.
You can completely reinvent yourself , leave all the past stuff behind and take another go at making you proud of your life you live.
My experience with my clients in the past few years taught me that  most people are NOT at all lazy, stupid or not capable of getting what they want. They are just not aware of how to manifest what they want right and effectively.
I see people to miss-use their precious energy and focus, getting exhausted, discouraged and making the assumption that some things are just not meant for them. This happens more often that not.
Was this you last year?
To become someone who "get's lucky a lot", you need to develop some skills, specifically MANIFESTING SKILLS.
We are all equally equipped to succeed and receive what we know would make us happy.
Image source: http://momspark.net/
How to start training to become a Manifesting Pro this year
Let's build some impressive manifesting mussels and habits so in December you could look back and say: "Now, that was a great year!"
This week's mantra is the best tool I have ever used ( in my own life and with my clients) to get the ball rolling if you are tired of shooting in the dark each time you want something, only hoping that somehow things will work out for you.
And here it is:
Something amazing is going to happen to me today.
It sounds super simple but it's truly magical.
How this simple mantra works
Almost 8 Years ago when I have hit the bottom in almost all areas of my life, using this simple mantra/affirmation was how I turned my life around. In a matter of a few months I went from being single and broken hearted to dating the man of my dreams ( I am still with 7 years later). At the same time I finally figured out what I want from life and left feeling like a loser behind and I landed a job that made me feel alive again while I decided to start my own business as soon as I was ready.
And then it just got consistently better and better.
So I know it works.
This mantra is like a magnet for the best opportunities to get what you want from life with little effort.
[easyazon-image align="right" asin="1401902332″ locale="us" height="160″ src="http://ecx.images-amazon.com/images/I/41-bi0gIncL._SL160_.jpg" width="107″]
I first learned about this magical mantra while reading my all time favourite book Trust your vibes by Sonia Choquette. This book was my personal bible when my life fell apart in all way possible and I had to find a way back into the world and get over my pain and hopelessness I felt at one point.
This book is full of great advice and practical exercises like the one about practicing this fun mantra. If you need a book to get you in the right frame of mind this year, I highly recommend this one. It will rock your world!
How I used this mantra to manifest some magic into my own life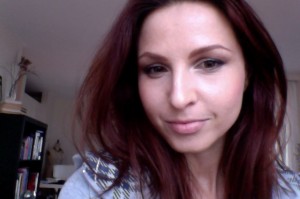 When I used this mantra for the first time I got a free ticket to U2 concert in Vancouver – my first concert ever I have been to, so it was beyond amazing.
It was a few days after I dedicated a whole day to practicing this simple mantra, no excuses. That day I was going to an event and started talking to a guy that gave me his card and asked me out on a date. I was single then so I thought, why not?
We went on one date and then he called me to ask about what I am doing on Friday. I said babysitting (which was my side job while I worked as Nanny ) and he said: " That's too bad, because I a concert ticket for you and I was hoping you would be free that night." As soon as I find out that I got a ticket to sold out U2 concert, I said I'll try to cancel the babysitting if I can.
To my delight and a surprise, a few hours later I got a phonecall from the woman who hired me to do the babysitting. She had to cancel and apologized to me for the inconvenience.
Wouldn't you call that a "magical coincidence"?
So I was set to go to my first concert ever. It all happened so fast, I could hardly believe it.
And the coolest part was that my concert ticket was one of the tickets that Bono personally sent to his friend and a past U2 "roadie" living in Vancouver ( who was a friend of my date ). One of those 5 tickets Bono sent to Vancouver was put aside for me. The guy that invited me to the concert was someone I have met only a few days ago so I was shocked. I almost ended up hanging out with the band too (OMG! 🙂  )
I remember I was standing in the BC place arena (where the concert was), only few meters away from the stage ( great seats!) and watching Bono do his thing, and my date asked me: " So what do you think?"
I answered: " Oh my god. This is amazing!"
As soon as I said the word amazing, it's like someone had whispered in my ear: " You see, it works!" and I immediately connected the dots.
I was still a little sceptical, but when this happened a few times and those "magical coincidences" started to become apart of my life more and more, I knew I was doing it ON PURPOSE. And I was hooked.
The rest is history. Looking back now, in the last few years my life had become very magical and I have become to be known to be a pretty lucky girl. But I have a secret and that secret is now out.
There is no luck, there is only intention and the always co-operating universe.
5 Keys to using this mantra well
1. Have no expectations of what has to happened and how it has to happen. That is why I used the word  SOMETHING in that mantra, meaning be open to anything. Let the universe surprise you while you are slowly building you intentional manifesting muscles.
2. It may take some time, a few days even for it to take effect like it did for me when I first applied it. Be patient and have faith. When it happens you will connect the dots just like I did at the U2 concert. You will just know, you did it.
3. Your general expectation is the key. Expect the universe to be conspiring on your behalf.  YOUR WORK is to only keep your focus in the right place : Something amazing is going to happen to me today. The what and how is going to chosen for you. Trust it.
4. Follow your intuition and keep your eyes and ears open for opportunities and take your chances. It's YOUR WORK to receive the surprise gift.
5. VERY IMPORTANT! : Know you deserve it.

You deserve to be spoiled by life, by the universe and people around you. You don't need to be special to have amazing things happening to you, but you need to be open to the idea in your mind, and in your soul. That is a must!
Happy manifesting!